The $2 billion Sea-Based X-Band Radar was back at Pearl Harbor for regular maintenance and installation of system upgrades, Missile Defense Agency spokeswoman Maria Njoku told the Honolulu Star-Advertiser .
Shore personnel will conduct inspections and surveys, and crew members will receive training, she said.
The Missile Defense Agency plans to keep the radar, which resembles a giant golf ball, at sea for more than 300 days in the next fiscal year beginning Oct. 1 to "address the continued missile test activity in North Korea."
The agency plans to have the radar spend 330 days at sea each year between 2021 and 2024.
When the Sea-Based X-Band radar is dry docked for an overhaul in roughly the 2020 time frame, it won't affect the U.S. capability to detect any missile threats in the Pacific, according to the Missile Defense Agency.
The military also plans to build a series of land-based sensors that will also track ballistic missiles. These include the $1 billion Homeland Defense Radar-Hawaii, which is expected to be operational in 2023.
"With the addition of the long-range discriminating radar in Alaska, the homeland defense radar in Hawaii and the future Pacific radar, we will have in place a diverse sensor architecture in the Pacific to provide an improved and persistent" missile-tracking capability, former Missile Defense Agency Director Lt. Gen. Sam Greaves testified in April.
Life Aboard a Modern Aircraft Carrier (comfy/ed)
For more than 40 years, Nimitz-class carriers have played the first-responder role in crises and conflicts. The delivery of CVN 77 in 2009 provided continued proof of the viability of the early-'60s design of the Nimitz-class carriers; these ships have served the nation well, and will continue to do so in the coming decades. Ford-class ships will begin to succeed those of the Nimitz class when Gerald R. Ford (CVN 78) is commissioned. While the aircraft carrier's basic mission will remain unchanged, Ford-class ships will deliver greater lethality, survivability, and joint interoperability, along with unmatched versatility and compatibility with continuing joint-force transformation – all at a reduced operating and maintenance cost to taxpayers. Ford will be capable of carrying the Navy's most advanced aircraft, such as the F-35C Lightning II; F/A-18E/F Super Hornet; E-2D Advanced Hawkeye; EA-18G Growler electronic attack aircraft; MH-60R/S helicopters and unmanned air vehicles. Adding to its versatility, Ford will also be able to recover and launch various Short Take-Off and Vertical Landing (STOVL) aircraft flown by the United States Marine Corps. Finally, the design margins built into the ship will allow for integration of future manned and unmanned aircraft with minimal ship alterations Read all
What would it take to transform U.S. infantry into a higher-caliber force modeled after the elite 75th Ranger Regiment? For starters, find recruits in their mid-20s and offer them $250,000 bonuses and a $60,000-a-year salary.
That's part of a working concept officials from the Pentagon's Close Combat Lethality Task Force (CCLTF) have been turning over for the past year in efforts to take Army and Marine infantry to a higher level of lethality.
The task force is the legacy of former Secretary of Defense Jim Mattis, a retired Marine Corps general and infantryman, who set out to place a new priority on a group that bears one of the heaviest burdens of warfare: the grunts.
Since its 2018 launch, the CCLTF has helped to find money in the Defense Department's budget to accelerate high-tech programs, such as smart augmented reality goggles for soldiers.
But despite its Defense Department backing, the organization faces a tough fight to convince the U.S. military's largest ground force to change the way it does business. Part of the task force's plan hinges on the Army's ability to revamp the antiquated methods it uses to recruit, select and train infantry and other select specialties with key roles in close combat.
"There is truth in this fact that we have not paid great attention to this idea of specially selecting people and incentivizing infantrymen and giving them the right skills," retired Army Lt. Gen. Thomas Spoehr, who serves as director of The Heritage Foundation's Center for National Defense, told Military.com. "I think we can do a lot better in the Army ... about getting the right people into these positions."
But Chris Dougherty, a senior fellow at the Center for a New American Security, said that such an effort -- while laudable -- would be enormously expensive and unlikely to gain traction at a time when the Army is attempting to modernize its major combat systems and straining to meet recruiting goals.
"The question that I think the Army has got to grapple with is ... is this a cost-effective use of Army dollars," said Dougherty, who served in the 75th Ranger Regiment in the late 1990s.
"I don't think that we are headed into a period where ... you are likely to see heavy investment in light infantry."
Army Maj. Gen. Robert Scales, a key adviser to the CCLTF, has some strong words for critics of the overhaul effort, however.
He called them "professional personnelists, those who practice the black arts of human-resource, personnel management."
"They approach it from the standpoint of efficiency and management," Scales said. Read All
More Photos from the Kailua 4th of July Parade
The Final Resting Place of 49 U.S. Sailors Confirmed
By The Maritime Executive 2019-07-02 18:10:24
After almost 75 years, ocean explorer Tim Taylor and his "Lost 52 Expedition Team" officially discovered the final resting place of the 49 Sailors of the U.S. submarine S-28 (SS-133) off Oahu, Hawaii. The U.S. Navy recently validated the identity of the wreck, which Taylor located in 2017.

July 4, 2019 marks the 75th anniversary of the loss of the submarine, which was conducting exercises at the time she disappeared.

The keel of USS S-28 was laid down in April of 1919, just months after the end of the First World War. Commissioned on December 13, 1923, the S-Class submarine spent 16 years taking part in various Navy exercises in the Caribbean and eventually the Pacific.

When Pearl Harbor was attacked on December 7, she was being overhauled at Mare Island Naval Shipyard outside of San Francisco, California. She was one of several S-boats put into service in World War II and was initially sent to Alaska to defend the Aleutians against a possible Japanese invasion. By mid-November, S-28 arrived in Pearl Harbor and for the next seven months trained in the waters around the island.

On July 3, 1944, S-28 embarked on an antisubmarine warfare training exercise off the coast of Oahu, Hawaii. During the training, communication became sporadic, and the boat sent her last communication to the Coast Guard cutter Reliance the evening of July 4. Navy's search of the area did not reveal the location of the submarine, and two days later, a diesel oil slick appeared in the area.

Later, a Navy Court of Inquiry could not determine the cause of the loss. During her service during World War II, she completed six war patrols and earned one battle star.

S-28 rests in approximately 8,700 feet of water, which made the location of the ship impossible due to technological limitations of the era.

Following World War II, the U.S. tested ordnance and scuttled U.S. and Japanese ships in the vicinity of the wreck site. Records indicated that her sister ship, USS S-35, had been scuttled in that same area. Finding the subtle differences between the two series of S-class submarines demanded some technical expertise and analysis. Through Taylor's research, paired with historical archives, the Naval History and Heritage team were able to positively identify the wreck comparing design differences. Records revealed the hulls had uniquely different cowling covers on the forward bow planes.

The investigators also considered some likely superstructure modifications and the probability that deck guns were removed from the S-35 before it was scuttled as possible indicators. Ultimately, however, the cowlings provided the evidence the team needed to make the final confirmation.

Taylor's team utilized advanced photogrammetry to create imaging that allows them to research the site long after they have returned to the dock. The data produced by their expedition was key in helping to confirm that we were looking at the S-28 and not the S-35.

Taylor, CEO of Tiburon Subsea Services, Inc., and director of non-profit Ocean Outreach, Inc. has a reputation for working with the latest in undersea technology and with the top specialists in underwater exploration. This is his fourth U.S. WWII submarine discovery since 2010 and is part of his ongoing "Lost 52 Project". The ongoing project is supported by STEP Ventures.
https://www.youtube.com/watch?v=E1Ms6pjkyjg&feature=youtu.be
Navy SEAL Eddie Gallagher sentenced to reduced rank, partial pay, after being cleared of murder charges
By Vandana Rambaran, Greg Norman | Fox News | July 3, 2019
Navy SEAL Eddie Gallagher will have his rank reduced and is sentenced to four months of confinement, which he has already served, for posing with the body of a dead Islamic State fighter, the San Diego jury decided Wednesday.
Gallagher's attorney confirmed to Fox News that he will retire from the U.S. Navy when he becomes eligible in about three weeks as he hits his 20 years of service.
The SEAL was found not guilty Tuesday on six of the most serious counts he was facing, including premeditated murder, willfully discharging a firearm to endanger human life, retaliation against members of his platoon for reporting his alleged actions, obstruction of justice and the attempted murders of two noncombatants.
"I feel fine. It's all right, you know? The jury came with a verdict. I trust them," Gallagher told Fox News after his sentencing Wednesday, which stipulates his rank will be reduced to an E6 paygrade, affecting both his pay and his benefits. A jury also sentenced the SEAL to pay $2,697 per month for four months.
Prior to sentencing, Gallagher's defense succeeded in getting the judge to reduce the potential forfeiture to 50 percent, arguing that some of Gallagher's pre-trial confinement was tantamount to punishment based on the fact that he was denied access to a computer and some medical treatment. Even though the jury came back with a 4-month partial forfeiture of pay, it will be cut in half, resulting in 2 months partial forfeiture.
He was accused of stabbing to death the 15-year-old combatant in 2017 and posing with the corpse for photos. He endured a dramatic trial where defense attorneys argued that Gallagher's platoon "concocted" the accusations against him, pointing to his history as a decorated SEAL with 19 years of service with multiple tours in Iraq and Afghanistan and earned the Bronze Star with V for Valor twice, a Meritorious Unit Commendation and a trio of Navy and Marine Corps Achievement medals, among other recognitions and decorations.
Nearly a dozen members of Gallagher's platoon testified during the trial against him, revealing that nearly all the platoon members posed for photos with the dead prisoner and witnessed Gallagher read his reenlistment oath near the body, actions prosecutors said proved that Gallagher was "proud" of his actions.
Prior to the sentencing, Lt. Brian John, a Navy prosecutor, warned jurors that "a message needs to be sent" for photos such as the one Gallagher posed for, as they "have [the] potential to fuel propaganda."
"The chief, rather than taking those photos, should have been the one stopping them," he added.
"What is fair?" came the response from Maj. Nelson Candelario, a Marine defense lawyer representing Gallagher during the defense presentation, calling for "no additional punishment."
Gallagher had previously served nine months in prison awaiting trial but was released ahead of trial proceedings at the end of May as the judge attempted to rectify alleged prosecutorial misconduct which included the unauthorized tracking of the defense's emails.
"That's what's fair in this case," he said. "That's what's just."
"It was a regretful decision to pose in the photos," his attorney Tim Parlatore said Wednesday after sentencing. "It obviously was something, if he could take that back he would."
"Chief Gallagher wants that to be a lesson to everybody else, all of the other members of the SEAL community, the Navy, the army the marine corp and all the other services, of your actions have consequences and even though he did not commit a murder, even though he did not do these shootings or anything else, yes he made a mistake with these photos and that's something that every leader, every warrior should think about when they're out there because it can have significant consequences," Parlatore added.
Gallagher, in an interview earlier Wednesday on 'Fox & Friends' alongside his wife, Andrea, and Parlatore, said media reports tried to frame him "as a criminal from the get-go.
"But we knew the truth the whole time," he said. "We knew I was innocent of these charges. I overcame it by having my strong wife with me the whole time and my legal team fighting for me."
The months leading up to his trial were marked with controversy. Defense lawyers and military prosecutors had disputed the conditions of Gallagher's pre-trial treatment, and at one point, even President Trump got involved, tweeting out that Gallagher would be moved to "less restrictive confinement while he awaits his day in court."
Marc Mukasey, one of Gallagher's lawyers who is also President Trump's attorney thanked the president for bringing "this case out of the shadows and into the light."
"America saw what was being done to Eddie Gallagher and thanks to the president for bringing it into the light so that we could expose the injustice that was being done," Mukasey said Wednesday.
Perhaps the biggest bombshell in the case occurred on June 20, when Gallagher's colleague, Special Operator 1st Class Corey Scott, admitted to asphyxiating the ISIS fighter back in 2017, contrary to the testimony of at least seven other SEALs who said Gallagher stabbed the ISIS fighter.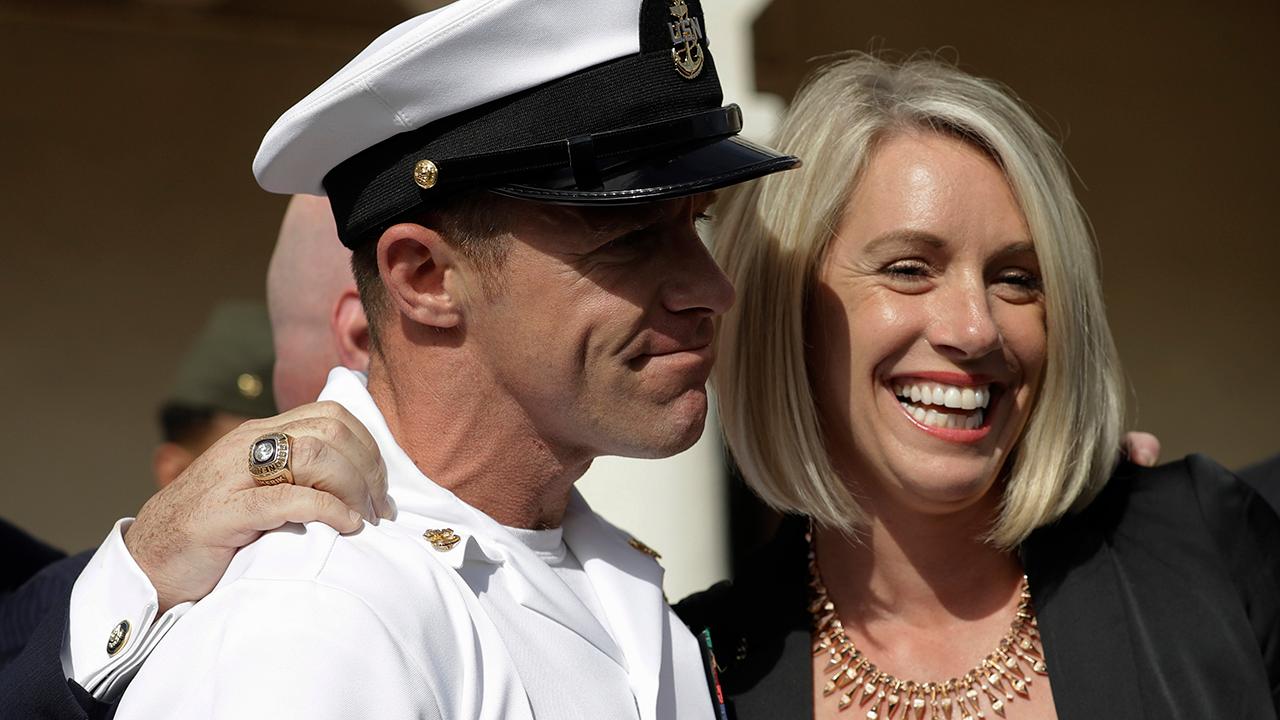 Parlatore said he suspected Scott may have asphyxiated the ISIS fighter after interviewing him before the trial, but Scott, testifying under an immunity deal from the prosecution, did not fully admit it until he took the stand.
"At that moment, I punched Eddie in the leg and said 'we got him,'" Parlatore recalled.
Gallagher has long held throughout the trial he believes his platoon behaved in a manner not representative of the SEAL community as a whole.
"This has put a black eye on this community. I want the nation to know this is not what our community is about. This community is full of elite warriors that I have been honored and blessed to work with for the past 20 years," Gallagher said.
Published for American Submariners by USSVI Bremerton Base -Webmaster Don "Red" Bassler